Description
4ms Pods are low-cost, portable, compact enclosures that turn Eurorack modules into table-top instruments. Powered Pods come with an integrated, daisy-chainable power supply that allows you to link multiple units in different configurations using only a single power brick.
Each Pod typically will house one to four modules, but more can be accommodated using a multi-power cable accessory. Standard M3 threaded holes allow for any configuration of modules.
Most Pods accommodate modern, shallow modules, but we also offer the X-series Pods (Pod34X, Pod40X, Pod48X, and Pod64X) which are deep enough for most modules.
Mix and match your Pods with desktop synths, effect pedals, drum machines or any musical gear for a flexible modular system.
Made from 100% anodized aluminum, Pods are light, tough and perfect for on-the-go. The power supply can handle up to 700mA of +12V for the smaller Pods, and 1.4A for the Pod60, which is plenty of juice for even the most hungry modern digital modules. (Or if you prefer to DIY your power supply, Pods are also available unpowered)
Pods are a perfect way to get started in Eurorack module, or to add a couple more modules to your monster system. They can even daisy-chain with the 4ms Row Power system, making them a convenient outboard mini-skiff.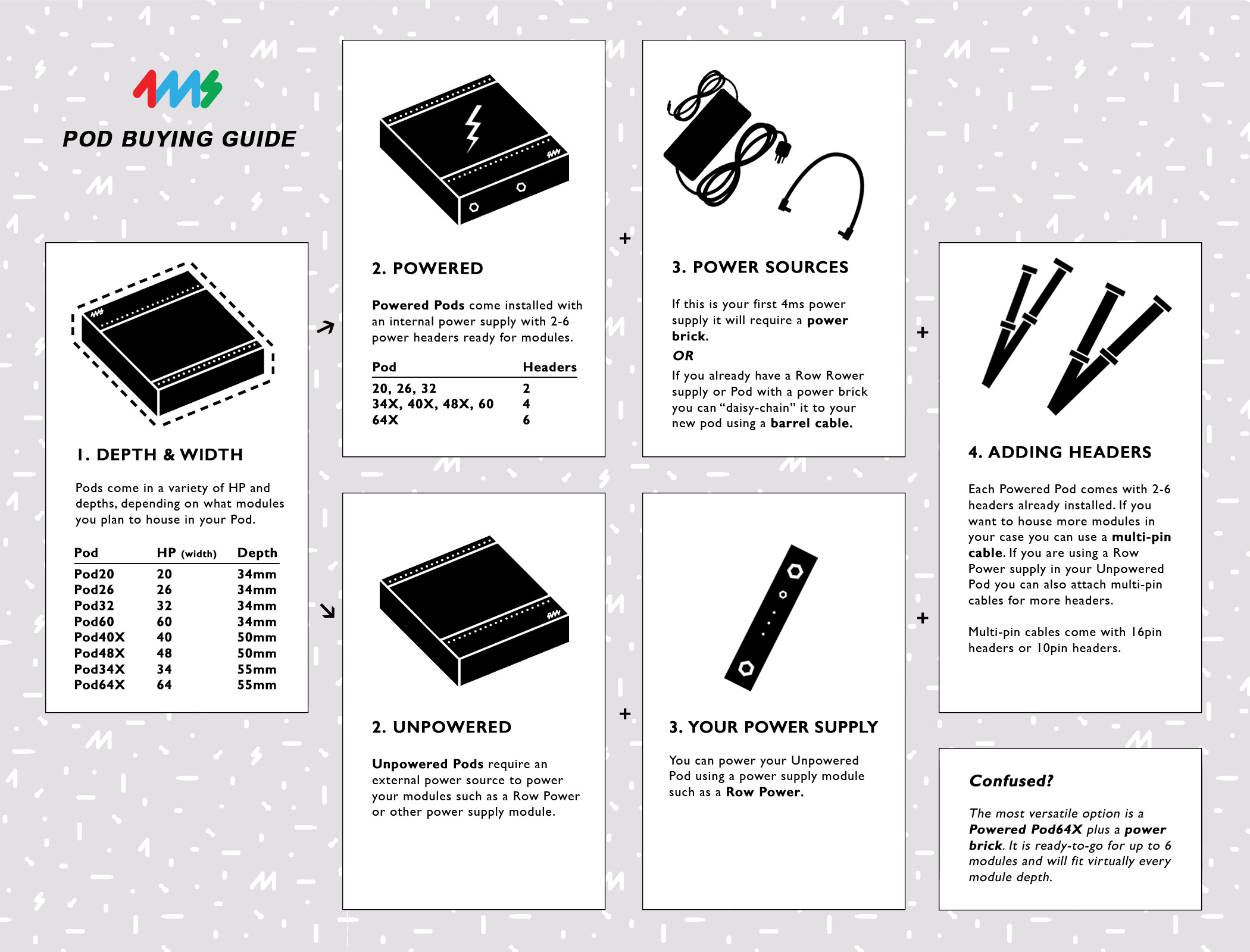 Power
The Pod20, Pod26, and Pod32 have an integrated power supply with two standard Eurorack power headers; the Pod 34X, Pod40X, Pod48X, and Pod60 feature four power headers, and the Pod64X has six. All Pods work with all modules that use 10 and/or 16-pin power cables.
Multi Power Cables
If you need to install more modules than the number of power headers in your Pod, you can use a Multi Power Cable. One end plugs into the power header on the Pod, and the other connectors plug directly to modules. Each Multi Power Cable can power three modules from one power header. Multi Power Cables come in two varieties: 10-pin, and 16-pin. Choose the one that matches the type of power cable on your modules.

Daisy Chaining
Powered pods are meant to be daisy-chained. When you plug a Power Brick into one of the jacks on the back of a Pod, the other jack can be used to power an additional Pod. Simply connect a Barrel Cable from one Pod to the next. You can continue to daisy-chain Pods to make long chains! With a 45W Power Brick, 8 or more Pods can be daisy-chained (depending on the total power consumption of all the modules).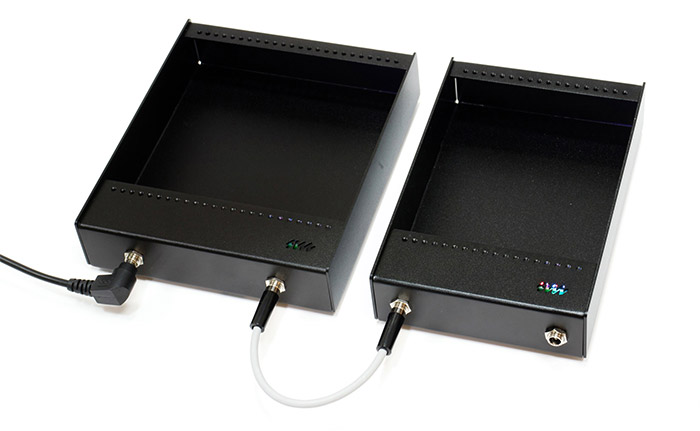 Unpowered Pods
Most Pods are sold with a power supply. Pods can also be sold "Unpowered": essentially an empty metal box perfectly sized for Eurorack modules. If you purchased an Unpowered Pod, you'll see there are no power headers or jacks on the back. You will need to provide your own power supply for your modules. If you have a Row Power module, it can be installed on the top of the Pod as a normal module. Additionally, there are two holes on the back of the Unpowered Pod which are plugged with a plastic insert: you can use these holes to mount a jack which connects to your own DIY power supply.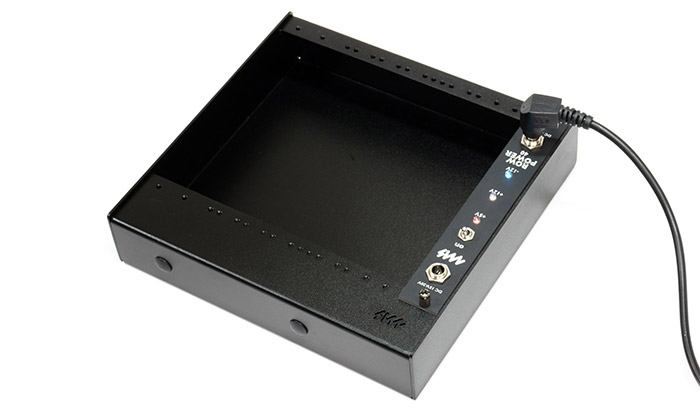 Specifications
The Pod 34X and 64X have 2.16″ (55mm) of depth on the inside, Pod40X and 48X have 1.97" (50mm) of depth on the inside, and the thin Pods (Pod20/26/32/60) have 1.34" (34mm) of depth on the inside. The depth of your module, including the power header, must be less than or equal to this.
Powered Pod Includes:
Pod, black anodized aluminum
Built-in power supply with two Eurorack power headers
M3 x 8mm screws (10 for Pod48X and smaller; 20 for Pod60 and Pod64)
Adhesive rubber feet (4)
Does not include barrel cable or power brick
Power Supply (Pods 32HP and under):
Two 16-pin Eurorack power shrouded headers
+12V max 0.7A
-12V max 0.28A
+5V max 0.2A
Power Supply (Pod40X, Pod48X, and Pod60):
Four 16-pin Eurorack power shrouded headers
+12V max 1.4A
-12V max 0.65A
+5V max 0.5A
Note: Early Pod60s with two separate power PCBs have 0.4A max of +5V, and 0.56A max of -12V, and the power draw of any single module must not exceed half the maximum ratings.
Power Supply (Pod34X):
Four 16-pin Eurorack power shrouded headers
+12v max 1.4A
-12V max 0.67A
+5V max 1.0A
Power Supply (Pod64X):
Six 16-pin Eurorack power shrouded headers
+12v max 1.4A
-12V max 0.67A
+5V max 1.0A
Power input:
Two barrel jacks for daisy-chaining, 2.1mm positive tip.
Voltage: 15VDC recommended, 20VDC maximum
Exterior dimensions:
Width:

Pod20: 106.1mm (4.18")
Pod26: 136.6mm (5.38″)
Pod32: 167.1mm (6.58")
Pod34X: 177.3mm (6.98")
Pod40X: 207.7mm (8.18")
Pod48X: 248.3mm (9.78")
Pod60: 309.3mm (12.18")
Pod64X: 329.7mm (12.98")

Height: 159.5mm (6.28″)
Depth:

Pod20/26/32/60: 36mm (1.42")
Pod40X/48X: 52mm (2.04")
Pod34X/64X: 57mm (2.24")
Interior dimensions:
Module depth:

Pod20/26/32/60: 34mm (1.34")
Pod40X/48X: 50mm (1.95")
Pod34X/64X: 55mm (2.16")

Module width:
Weight (powered):

Pod20: 0.17 kg (6 oz)
Pod26: 0.21 kg (7 oz)
Pod32: 0.23 kg (8 oz)
Pod34X: 0.3 kg (10 oz)
Pod40X: 0.31 kg (11 oz)
Pod48X: 0.35 kg (12 oz)
Pod60: 0.40 kg (14 oz)
Pod64X: 0.5 kg (17 oz)