Description
NOT A DIY PRODUCT – BUILT AND TESTED BY 4MS IN PORTLAND, OR, USA
Row Power is a clean, regulated, and protected power solution for eurorack systems.
The Row Power 25 provides 25W of power for a small system of eurorack modules (typically 4-10 modules*):
+12V @ 1.4A maximum, 1.0A recommended
-12V @ 0.8A maximum, 0.5A recommended
+5V @ 1.0A maximum, 0.8A recommended
Row Power 35 provides 35W of power, suited for any typical eurorack row (84HP to 168HP): ([email protected]/[email protected]/[email protected])
Row Power 45 provides enough power for two to three typical Eurorack rows (typically up to about 312HP):
+12V @ 2.0A maximum, 1.5A recommended
-12V @ 1.4A maximum, 1.2A recommended
+5V @ 1.5A maximum, 1.2A recommended
*number of modules can vary depending on each module's power consumption.
Simply plug a laptop style power supply into either of the barrel plugs on the 4HP panel. Connect your modules via flying-bus cables, or connect the Row Power to a Distro Board.
Daisy-chain multiple Row Powers to use a single power brick for multiple rows. Each row will be independently regulated and protected for ultra-low cross-talk between rows. Rows can also be hot-swapped (plugged/unplugged without powering the whole system down).
Note that the Flying Bus Cables come individually. You need two per row. If you are planning to use your own Bus Board PCB instead then you will also need to get a 16-16pin ribbon cable to connect to the Row Power.
In a typical system, a good rule of thumb is that a single PSU brick will power 3 x Row Power 45s (black) or 4 x Row Power 35's (white). Typically it will power more than that but for a very demanding system such as an LZX video rig, or a heavy metasonix system, this rule of thumb will hold.
The Row Power 45 is compatible with the 4ms Row Power Shield. This device (sold separately) attaches to the back of the Row Power 45 and monitors the amount of current being drawn, as well as the voltages of the power rails. The information is sent over Bluetooth to be displayed on a phone or tablet.
SYSTEM EXAMPLES
For any system you need at least these four items
One

Module

(Black or White)
One

Distribution

device (BusStick or Flying Bus Cable)
One

PSU Brick

One

PSU Cord
Then optionally if you want to daisy chain multiple row power modules you need
EXAMPLE 1
A single row (up to 104hp) of Eurorack in a Thonk Skiff.
One White 25 Row Power Module
One Male Bus Cable
One 45w PSU Block
One PSU Cord (EU, UK or USA)
EXAMPLE 2
Three rows (up to 104hp) of Eurorack in a closed case.
One White 35 Row Power Module
One Black 40 Row Power Module
Three BusSticks
One 90w PSU Block
One PSU Cord (EU, UK or USA)
One DC Jumper Cable
BusStick Or Flying Bus Cable?
If you have a Thonk Skiff or other open enclosure:
If you don't ever move it or gig it – Flying Male Bus Cable or BusStick
If you move it round your home or take it to friends houses – Flying Male Bus Cable (tidier, less likely to get accidentally detached)
If you regularly gig – Don't use an open Skiff!
If you have a enclosed case:
We recommend a BusStick or consider Bus Boards if you DIY
A Male Flying Bus Cable will be good if you don't re-arrange modules a lot
 FLYING MALE BUS CABLE IMAGE:

BUSSTICK IMAGE:

BusStick Further Info
The Bus Stick is a sturdy board with 14 power headers.
The Bus Stick attaches to your case using adhesive pads (included), or by drilling/screwing. There are no metal or conductors on the bottom of the Bus Stick, so there's no danger of it shorting out to your metal case (therefore, no standoffs are needed!).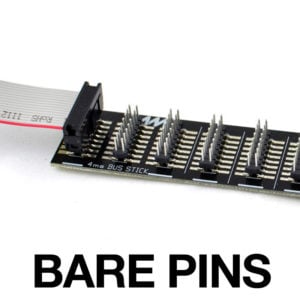 The shrouded header version sits 12mm from the base of the adhesive pads and the bare pin header version sits 13mm from the base.
The Bus Stick extends your existing bus board solution using a standard 16-pin cable (included).
Simply plug your modules' power cables
directly to the Bus Stick.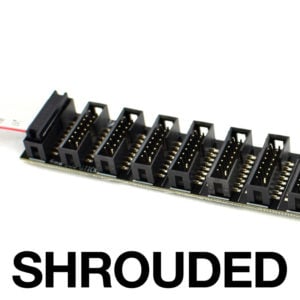 This is a durable and easy-to-use power distribution solution. It also allows for maxumum clearance in the area of your case where the Bus Stick is not installed.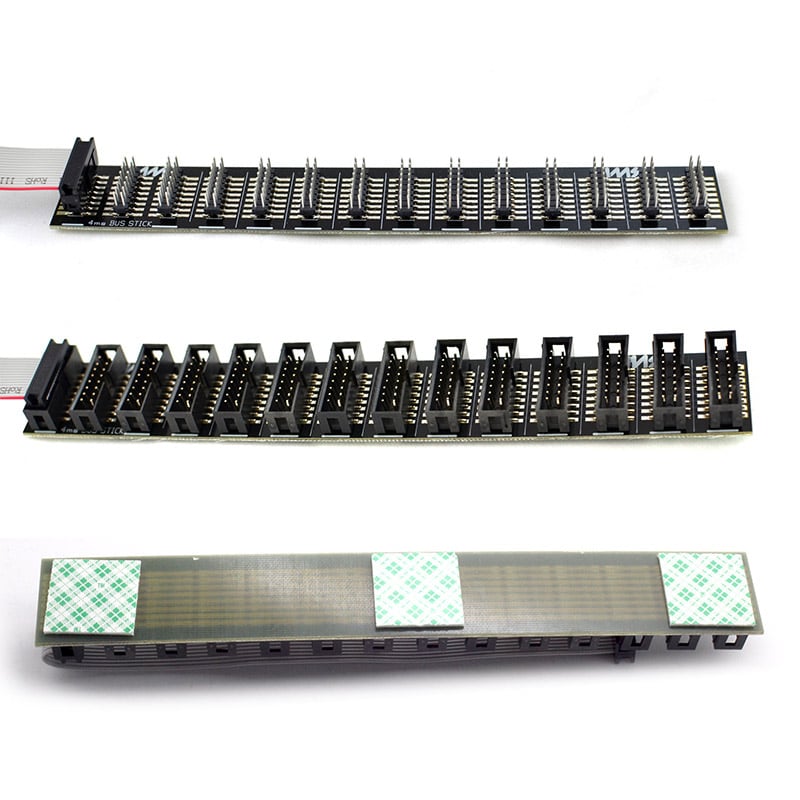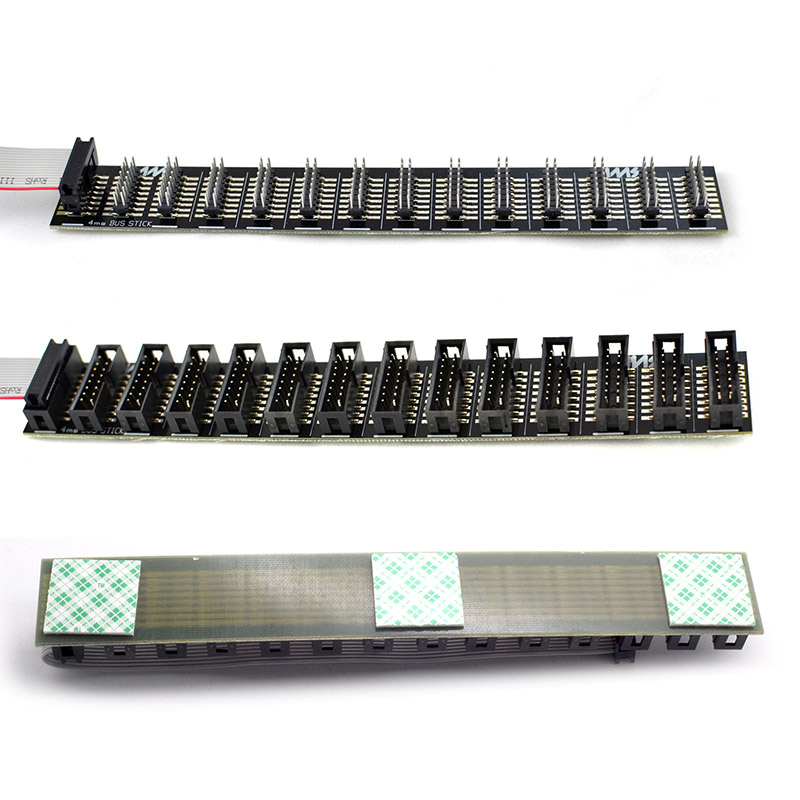 All further technical questions related to the product should be sent to [email protected]