Description
The Landscape Soundwich is a device based on the sound of tact switches, hardware and PCB material. In part it's a compact and sturdy form factor for interaction with piezo experimentation. The piezo disks are directly mounted to the undersides of the top and bottom PCBs creating a direct connection to the sounds of the tact switches. The two 3.5mm jacks can be used as either ins or outs. One is a momentary out and one is always on. The momentary output allows you to hear only the depressed click sound of the tact switches while the always on output allows you to hear both the depress and release of the tact switches amplified by the two piezos. When you shake the Soundwich you will hear the sound of six washers sliding along machine screws and colliding against the two piezo pickups. Using momentary out while shaking will only allow that sound to escape when disks are compressed. Compressing along the edges will provide different filtering amounts depending on where you press [the 7 stacked lines indicate greatest amount of filtering/attenuation with less and less filtering as your travel counterclockwise till there is nearly zero]. Routing audio or CV through provides a fast and tactile handheld momentary on device.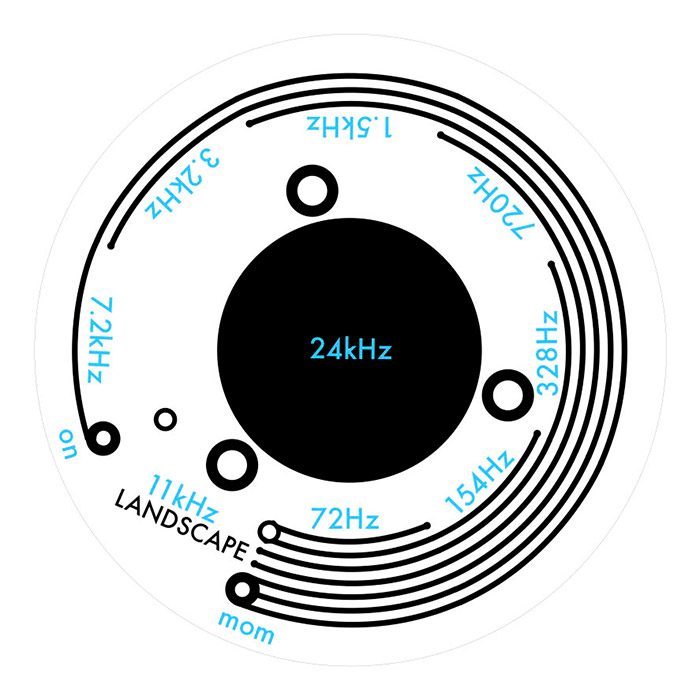 Filtering Layout / Press to filter, attenuate + pass sound to (mom)mentary output
Soundwich can be defined as:
1. a simple passive piezo, tact switch and hardware based sound device which can expel audio or accept it
2. a piezo pickup with a constant output
3. a piezo pickup with a momentary output when disks are depressed in center point
4. a piezo pickup with momentary out through 8 different filter amounts when depressing disks along edges (volume is also attenuated)
5. an exciter for resonators and effects
6. a shaker using internal washers to strike the top and bottom piezos
7. a shaker with momentary out through 8 different RC filter amounts
8. a lo-fi vocal mic when pressed directly against the lips (and/or momentary on when using momentary jack)
9. a very quiet lo-fi speaker
10. a tactile momentary on switch when routing audio through it (in one direction)
11. a momentary on w/ lowpass filtering and volume attenuation when routing audio through (the reverse direction)
12. a momentary on plus attenuation of modular signal when routing through the RC filter
13. a shaker and clicky trigger source for some modular synthesizer modules without needing an extra boost to modular levels
14. When boosted to modular levels, clicks and/or shakes can be used to advance a sequencer for example
15. When placed on a hard surface each side can create different rhythm sounds when tapped
16. Other definitions…
Soundwich – Build Guide | Requires some surface mount soldering but due to its simplicity this kit can also be a good introduction to SMD soldering.