Description
V2.1 PCB set, one minor fix – some users had found the switch a little tight to fit.
This is a full kit which includes every single component to build a Radio Music module right down to the Teensy microprocessor board, the knobs, rack screws and power cable.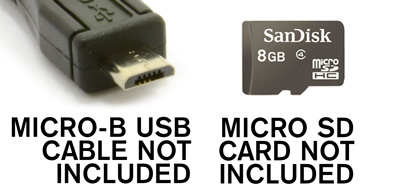 NOTE – you need to purchase a MicroSD card and a Micro-B USB Cable elsewhere to set up this module. The Micro-B cables are the smallest type shipped with Kindles and many Android phones. You also need a card reader to write files to the SD card, many laptops and desktops already have them built in now. – Read the setup and build documentation here.
The very cheap $2 MicroSD cards are not worth the trouble they will cause you, buy genuine SanDisk or Kingston branded MicroSD cards from Amazon or elsewhere. 32Gb maximum… that's 108 hours of lossless audio in 16bit 44.1khz. Total file limit per card is 1200 files.
Download the latest software here – http://polyfather.com/radio_music/
Full project details and documentation here – http://github.com/TomWhitwell/RadioMusic/