Description
Reverse Landfill Noise is based on 4 Squarewave oscillators that modulate each other, go through a clock divider and are then mixed together to create harsh noise and random control voltage. The result is often unpredictable and evolving,  great as a source for snares, hihats or as 'unpure' audio texture designs.
When the range jumpers on the backside are placed, a whole new beast appears! Chaotic structured beats, noise rhythms and artifacts are spat out. Noise has got 4 knobs for frequency, 4 CV inputs, 4 outputs, an internal patchbay, range jumpers for OSC1 and OSC2 and several modding possibilities.
Noise v8 can also be an interesting source for video synthesis, see video below for more details.
Noise  –  Assembly Guide | BOM | User Guide
Specs:
Width: 8HP
Depth: 33 mm minimum (with flattened Dupont patch cables), 45 mm maximum (without flattening them)
Power usage: 19mA +12v, 0mA -12v, 0mA +5v
Reverse polarity protection.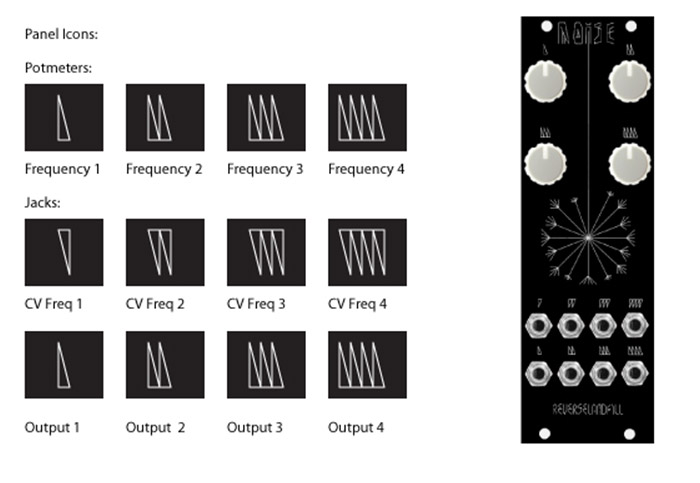 Noise to Video:
Experiments with Noise as a video source in a LZX video synth environment.
This video is an experiment with Noise Module v8  to see if the outputs were useful for video. Turns out they are! The Noise oscillator is very chaotic, so the noise image is not static. The Noise v8 module gives you a wide range of noise effects when used for analog video. The outputs have to be attenuated to comply to the video voltage format. The Reverse Landfill Matrix Mixer can be used for this purpose. The range jumpers on the back on the module set the frequencies to a lower range. When the noise is used together with a keyer, interesting results can be achieved. The audio track in this video is unrelated.