Description
The Robaux SWT16 is a 16-track Eurorack trigger sequencer with up to 64 steps per track. Programmable like a classic TR machine, the SWT16 can be used not only for triggering drum sounds, but also for Envelopes, resetting LFOs or triggering other events in your patch. The SWT16 is polymetric – each track can have a different length, from 1 to 16 steps. Even more complex rhythms can be achieved with the individual clock divider per track.
The SWT16 has an intuitive user interface. All operation is via the illuminated 4×4 keypad. From the main screen, you can access the 16 different modes of the sequencer. The buttons adapt to the selected mode. With the back button, you can quickly return to the main screen. Each track has its own trigger output. In addition, the triggers are also sent via MIDI notes (requires an adapter).
Open Source – Since the sequencer is based on Arduino, you can easily change the firmware, add or remove features. This allows you to use the machine in a completely different way.
SWT16 – Assembly Guide | Manual | Schematic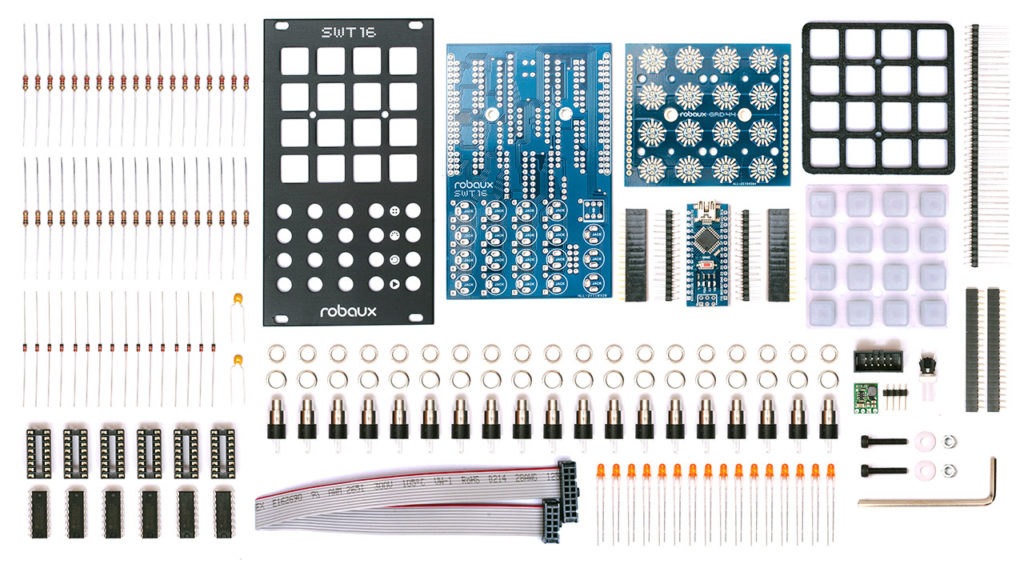 Specs
Number of Tracks: 16
Number of steps per track: up to 64
1 x clock input
1 x reset input
16 x trigger out
1 x MIDI out
16 x backlit silicon button pads
1 x illuminated push button
Width: 14HP
Depth: 35mm
Power: +12V=120mA