Description
Simple is a new prototyping board designed especially for synthesizers. It allows you to connect a Daisy Seed or a Teensy (3.X), and quickly design and build your instrument and its interface using B10k pots, switches and sockets. What does your ideal interface look like? The Simple board is modular, so you can place knobs, switches and jack sockets anywhere you like. Create the perfect interface for your instrument in minutes!
The board includes 80 slots (footprints) for components. The slots are connected internally to VCC and GND, therefore only one wire is required for each component. Each slot can hold either a potentiometer, socket or a switch. At the bottom of the board there's a slot for a microcontroller (48 pins) which is connected internally to the pad strip for easy access. There's also a little perfboard for external circuits – for example, multiplexers, buffer circuits and filters.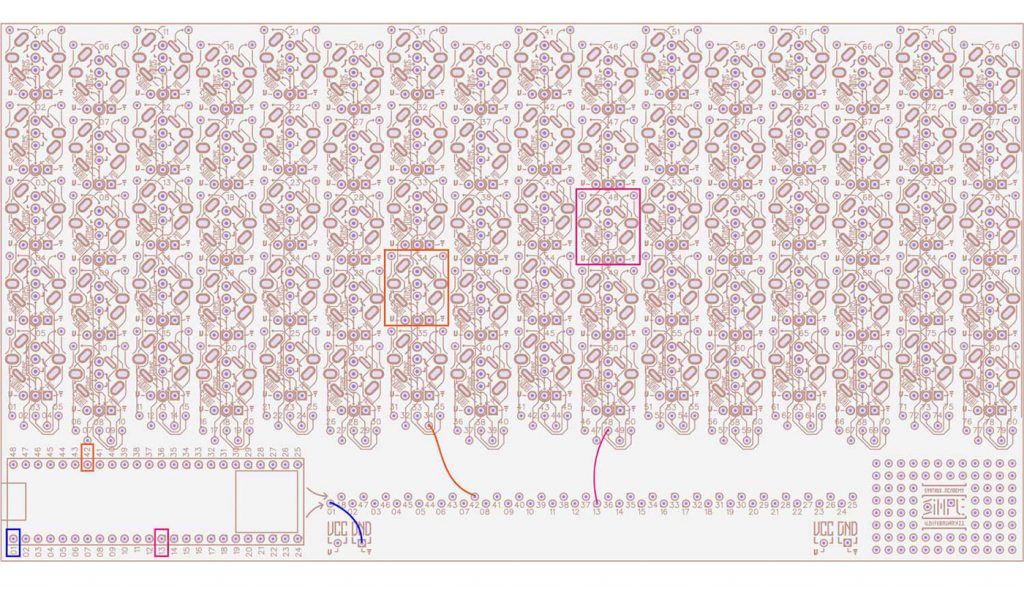 Eurorack?
Simple is powered through USB, which is awesome! But, if you wanna add an additional analog circuit to it, you can. The Simple PCB is designed so it can fit in 3U rails at 42 HP.  If you want to use the PCB for Eurorack designs you'll need to add your own Eurorack power and additional circuits, like buffers for inputs and outputs. Use the perfboard at the bottom right to add the circuits necessary.
Educational materials
Simple is designed and developed by Synthux Academy. Check the website for educational materials, and join their Discord server to meet other makers and get help with design, programming and prototyping.
Components
The simple PCB footprints are designed to fit the following components:
Potentiometers – Alpha B10k 9mm Pots (Vertical): https://www.thonk.co.uk/product-category/alpha/alpha-9mm-vertical/
Switches – Subminiature – SPDT ON-ON / ON-OFF-ON: https://www.thonk.co.uk/shop/sub-mini-toggle-switches/
Audio Jack Sockets – PJ301BM: https://www.thonk.co.uk/shop/3-5mm-jacks/