Description
Plinky churns out warm-yet-fragile, CS80-meets-the-finest-finnish-melodic-electronica sounds. Every finger press is interpreted by old-school analog capacitive touch plates, polyphonically modulating the digital sound with analog sensitivity. Its lush built in reverb & capable arpeggiator mean you can lose hours to just noodling around – with no other gear than a pair of headphones and a USB power pack. Its intense modulation possibilities (full 90×7 mod matrix with internal accelerometer! 90 sample and holds per voice!) and eurorack connectivity mean it's as deep as it is fun.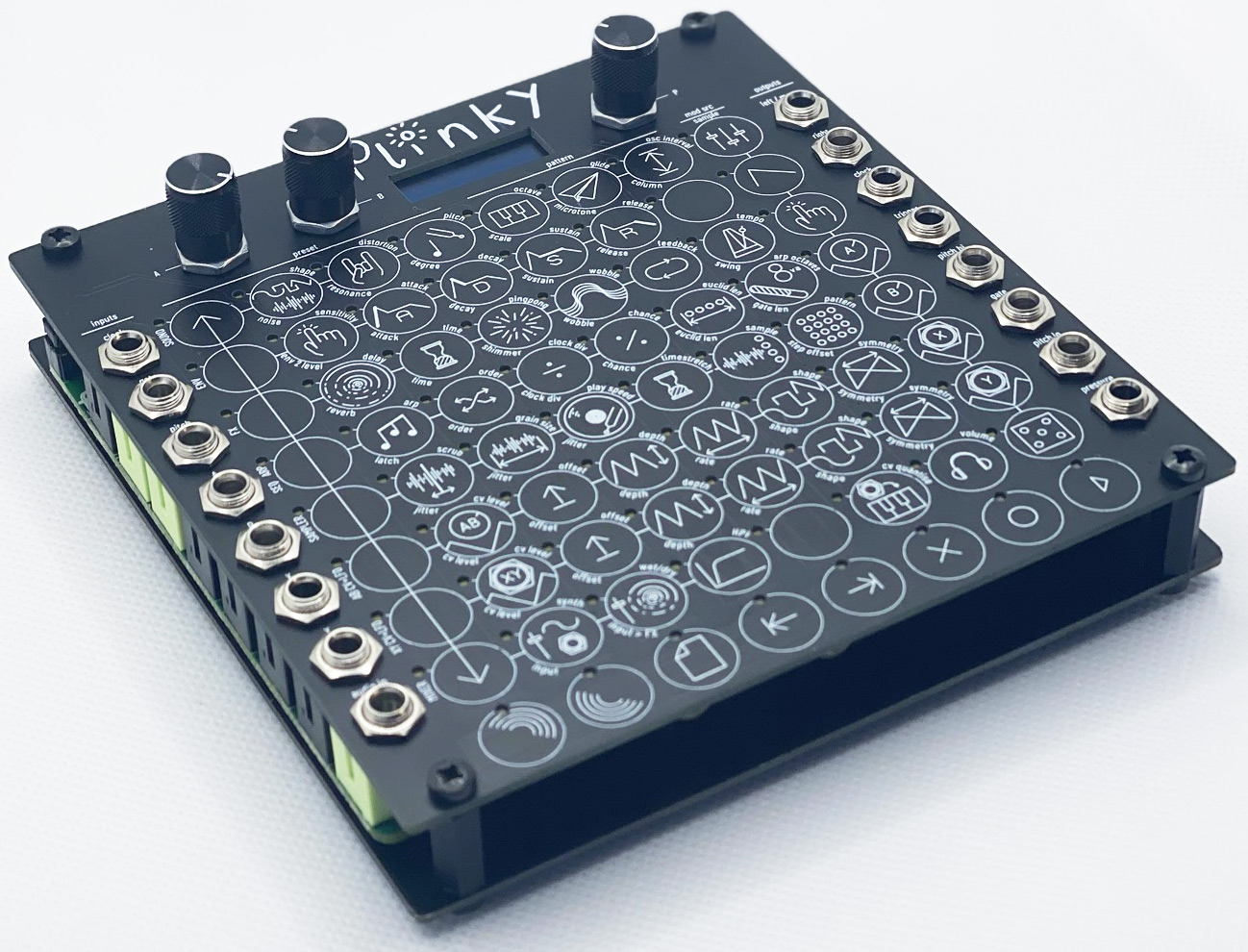 Important Notes
Plinky rev2 has ALL the SMD parts pre-soldered. There are no SMD LEDs to solder in this new version for 2021!
Plinky needs +5v on your Eurorack bus to be powered, if you don't have 5V on your busboard then buy one of these too.
Plinky comes ready flashed with software! Just solder and start playing straight away without involving a computer.
Back-panel and spacers for standalone use included with kit (as shown below).
The Aluminium enclosure that was previously available is no longer in production. The facility that manufactured these is no longer operating due to Covid restrictions. A different solution might be available in the winter.
When standalone, Plinky is powered from a USB Micro B socket, with line level audio in, and headphone out on both top and bottom edges of the unit.
Or, just unscrew it from its back plate and place it in your eurorack case, with built-in eurorack power connector and 16 CV patch points. Please note that plinky requires a 5v supply from your eurorack case.
Plinky is an easy build, there is no SMD soldering required in this new rev2 version. Detailed build videos complement the build guide, available at plinkysynth.com. I'd recommend it to anyone who successfully built any 'easy' kit from thonk, ie it makes a good 'second' soldering project.
You will need a soldering iron, solder and a USB-B micro power cable (as used by most Android phones, Kindles, etc). Everything else is included.
The Story of Plinky
Plinky grew out of an experiment to use a distinctly analogue 'touch' technology, to control a stack of 32 digital sawtooth oscillators. Together with built-in reverb and delay, the imperfections in the analog touch data are turned into an advantage, by detuning the unison oscillators in a way that makes you feel really 'connected' to the sound. This combination of physical expressiveness and digital sound generation is what makes plinky a unique yet fun instrument.
I keep procastinating writing more UI for plinky, so instead of waiting here's a video of me noodling around, direct audio from plinky, shaky iphone 6 video. it's a multi-touch (v sensitive!) surface + 8-voice, 32 oscillator + granular sampler + reverb + tape delay. it's fun! pic.twitter.com/lyJqHN00K6

— tanh(mmalex) 🇺🇦 (@mmalex) September 12, 2019
The 8 voices are mapped directly to the 8 vertical columns of the touch plate. Think of it almost like 8 monosynths, stacked from left to right, with each controlled by the pressure and position of your finger in each column. 
Plinky gives you a choice of 4×8 sawtooth oscillators, 2×8 ROM wavetable oscs, or 4×8 granular samplers using samples that you can record into its 32MB sample memory.
It also adds a per-voice noise source, two ADSR envelopes per voice, a global overdrive and reverb and delay units.
The pressure of each finger is mapped to the cutoff of a dedicated 2 pole resonant low-pass gate per voice, giving real-time control over the timbre of each voice.
It can also be used as an FX unit to process live audio, or as a sequencer or arpeggiator to drive other eurorack voices using its 1 V/Oct pitch outputs.
Unlike a raw oscillator, plinky expects to be played (either live, or via its built-in sequencer). However it has CV inputs for both pitch and gate, which allow it to be transposed and gated, as part of a larger modular patch. By switching on the latch and sustaining a single note, you could use it as a voice, arpeggiator, FX unit, sequencer, or any combination of those.
As well as the two envelopes per voice, it has 4 LFOs, a powerful arpeggiator and 64 step sequencer, with many parameters including euclidean rhythms. It has non-volatile storage built in, for 24 patterns, 32 presets and 8 sample slots of 1 minute each. Each sample can be time-stretched, pitched, and sliced into 8 pieces, including 'key-split' multi-sample playback. 
Even when used standalone, it integrates with modular synths with its 8 CV inputs and 8 CV outputs, including clock, pitch, gates and triggers.
Two 'performance knobs' act as macro controls (offsetting the A and B CV inputs), that can be arbitrarily routed to morph any number of parameters.
A third 'encoder' knob makes it easy to make fine adjustments while playing. In the performance below, the left knob is mapped to overdrive and the right knob controls the number of octaves the arpeggiator uses:
ok I admit it I was trying to channel some faint version of @blindoldfreak pic.twitter.com/I6ZHp0GdLO

— tanh(mmalex) 🇺🇦 (@mmalex) September 9, 2020
Each patch can use the knobs any way it likes. 
It supports midi in (notes, CC, pitch bend, polyphonic aftertouch, clock) over USB, and will expand its MIDI features in the future with firmware updates.
The module is less than 20mm deep. The kit includes spacers, a back plate and rubber feet, so that it can be used 'stand alone'. A beautiful custom machined black aluminium case will be available in January 2021.
A full build guide is available at plinkysynth.com, along with detailed build videos and support links if you need help with your build.
A 3rd Party build video can be found here: https://www.youtube.com/watch?v=eIbiFzXvqkY&t=288s
The manual and example videos are at plinkysynth.com. Regular firmware updates and new demo videos will be added there over time. Plinky has a slight learning curve – especially to unlock the power of the modulation matrix – but once you have a patch dialled in, you can just enjoy playing notes across the whole surface.
The kit arrives pre-flashed and with CV inputs pre-calibrated, however flashing plinky with the latest firmware is easy using a USB cable and any computer that supports USB memory sticks. It is recommended to update plinky to the latest firmware, available from plinkysynth.com
TECH SPECS
24HP eurorack module / standalone synth (interchangeable)
Synthesis engines: 
8 voices made up of a choice of:

32x polyblep bandlimited digital sawtooth oscillators; 

16x PWM bandlimited digital square/pulse oscillators; 

16x ROM wavetable oscs;

32x granular sample playback from user sample non-volatile RAM

plus this per voice:

Low pass gate (2 pole resonant)

White noise generator

2x ADSR envelope generators
plus this globally:
Stereo Reverb with shimmer

Two tap Delay with stereo ping-pong

Overdrive

High-pass filter (2 pole)

4 LFOs with many shapes & controllable symmetry
Sequencing:
64 step sequencer with euclidean rhythms

Arpeggiator with euclidean rhythms
Memory (non-volatile)
32 'preset' slots storing all parameters & modulation settings

24 64-step patterns

8 sample slots (mono 32khz; max 65 seconds each); 32Mb total
Size / Case 
24HP (122mm x 128mm); 20mm maximum depth

Fiberglass back plate for standalone use; eurorack mounting holes.

Aluminium case option sold separately in 2021
Power:
EITHER 16 Pin Eurorack power header. Cable included. 

OR USB-B micro power. Cable not included. 
5V POWER IS REQUIRED FROM YOUR EURORACK CASE
DO NOT PLUG USB AND EURORACK IN AT THE SAME TIME (rev2 has protection for this now however)
150mA from 5v / USB

10mA from +12v and -12v when powered from eurorack
Standalone ports at both top and bottom edge:
USB-B micro for power/usb midi/software update

Line-level audio in (new in rev2, analog saturation on the audio inputs, run euro level audio safely into line input and also doubles as analog/digital hybrid saturation unit)

Headphone/Line audio output
CV Inputs:
Clock (16th note)

Gate (0-5v)

Pitch (-2v to 5v, 1V/Oct)

4 Modulation inputs (A,B,X,Y, -5v to 5v)

Onboard accelerometer patchable to X and Y modulation sources internally

Mono Audio in (10v p2p) – for live FX processing & sampling usage.
CV Outputs:
Mono/Stereo audio out (10v p2p), 

Clock (16th note), 

Trigger (>5v), 

Analog Gate & Pressure (0-5v), 

Two pitch outputs (lowest and highest notes being played) (-2v to 5v, 1V/Oct) 
USB: 
USB Midi input (notes, CC, pitch bend, polyphonic aftertouch, clock). responds on all channels.

Firmware upgrade, and preset backup/exchange over USB Mass storage device via special 'flashing' mode (UF2 format)
Sample Rate: 32khz, 16-bit