Description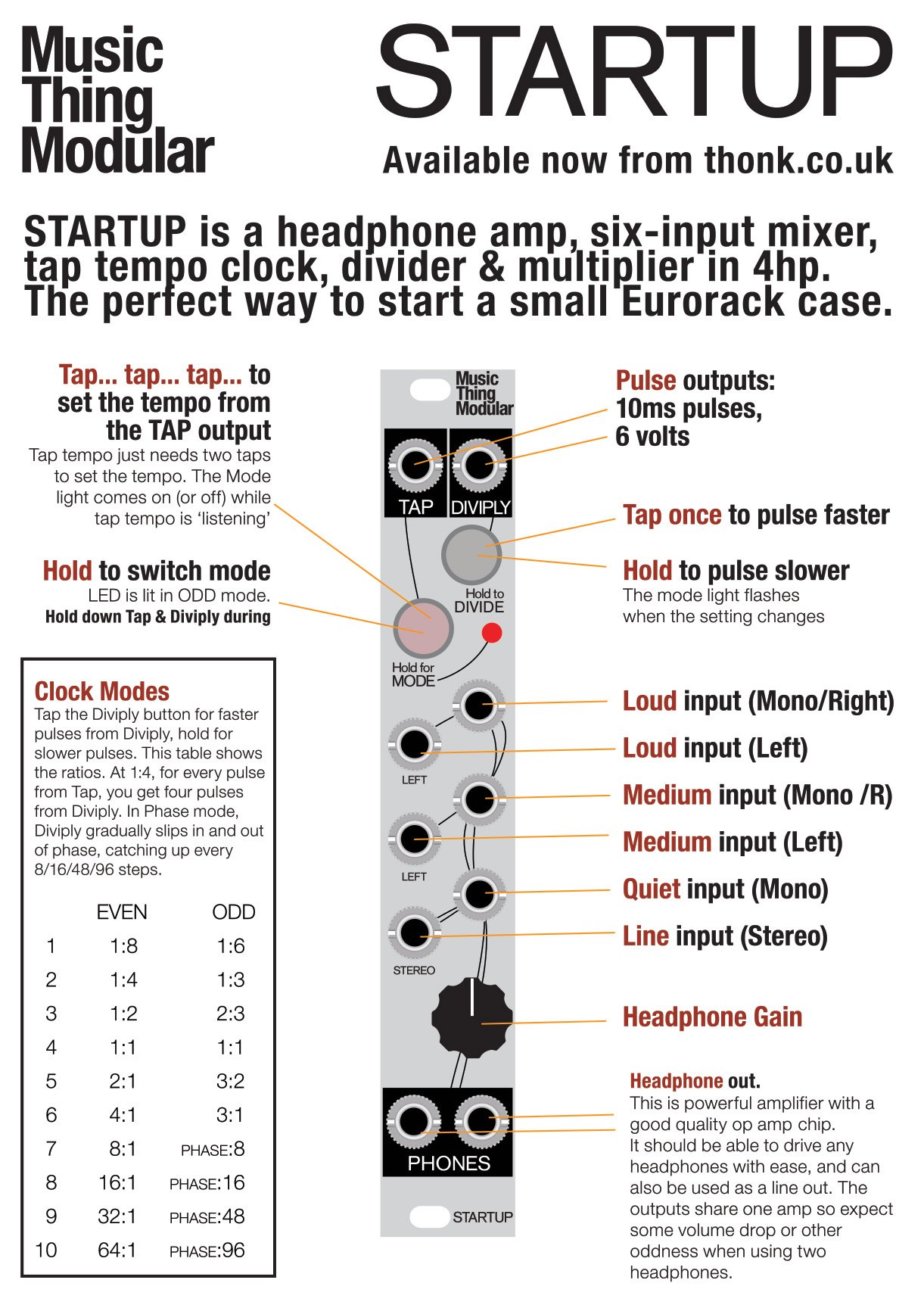 The Music Thing Modular 'Startup' is designed to be the best way to help start a small Eurorack case. This 4HP module does three things:
1. It's a 5 channel output mixer, with a spare channel for stereo signals (like a Korg Volca or a phone).
2. It's a nice clean headphone amp with two outputs.
3. It's a useful tap-tempo clock, with a second channel giving divided or multiplied clocks.
The best way to understand Startup is with with the Quick Start Manual (click on the image to the left)
The mixer is unusual because it has no knobs. Instead, relative volumes are set by patching. The top row of inputs are loudest. The second row are quieter, and the single mono input on the third row is quieter still. Mixing-by-patching is a different discipline from mixing-by-turning-knobs. Because fine volume adjustments are impossible, use other techniques to balance the mix: Open or close a filter, tweak the resonance. Change the envelope to make a sound longer or shorter. Choose a different waveform. Change the octave range. Add or remove reverb. There are endless possibilities. I've found it a good way to mix by ear, rather than by eye.
The module is 20mm deep.
The headphone amp is a powerful, low-noise amplifier with a good quality op amp chip. It should be able to drive any headphones with ease and can also be used as a line out. The outputs share one amp so expect some volume drop or other odd-ness when using two headphones. Please be VERY CAREFUL with volume levels when using headphones with modular synths – which can produce unpredictable signals.
The clock takes a few minutes to get used to. Again, the PDF Quick Start Manual is the best place to start. Tap the left-hand button to set a tempo. It just needs two taps to change the tempo. The fastest rate is as fast as you can tap, and the slowest rate is one pulse every three seconds.
The Diviply output produces a  second clock signal related to the main clock – tap the button to select a faster division (or multiplication), hold to select a slower clock. There are two modes: When the the mode light is off, clocks coming out from Diviply are Even; ratios of 2,4,8,16. When the light is on, they are odd; 1, 3, 6. Switch modes by holding 'Tap'.
Instead of the longest 'odd' divisions there is a kind of Easter Egg – four Phase modes. Here the Diviply output lags behind the Tap output, catching up every 8, 16, 48 or 96 pulses (in other words, Diviply sends 7 pulses in the time Tap sends 8 pulses, and so on). This Instagram clip shows a pattern that syncs every 8 steps, with a stereo output being driven by two Radio Musics
Startup Build Document – Assembly Guide | Startup at MusicThing.co.uk