Description
BULK PRICES – These prices do do include VAT for UK, EU or Norway.
You can see the final cost of the volume breaks by adding the parts to your cart.
| | | | | | |
| --- | --- | --- | --- | --- | --- |
| Bulk prices | THONKICONN | PJ301BM | PJ302M | STEREO THONKICONN | |
| 1+ | £0.40 | £0.41 | £0.42 |  £0.47 | |
| 10+ | £0.34 | £0.35 | £0.36 |  £0.40 | |
| 50+ | £0.21 | £0.22 | £0.24 |  £0.25 | |
| 250+ | £0.20 | £0.21 | £0.23 |  £0.24 | |
| 1000+ | Add to cart to see pricing up to 2000 pieces | email us | email us | | |
THONKICONN
Thonkiconn Eagle v6 Library Part – thonkiconn.lbr
Thonkiconn Eagle v5.7+ Library Part – thonkiconn_eagle_v5.lbr
Thonkiconn-PJ398SM is an improved version of the original Thonkiconn with a more reliable bushing – the footprint is the same.
The only difference between the old and new is, the former has a plastic semi circle round tab, and the latter has a metal rectangle tab, but the height of these two tabs are same.
The mechanism is identical to the 'Erthenvar' jack type (PJ301BM), it's primary purpose is as a direct replacement of the popular Kobiconn 3.5mm jack but with a 100% vertically integrated footprint, i.e. no perpendicular ground pin. A really great bonus of these parts is they fit neatly into breadboard/stripboard/veroboard.
All materials used are RoHS compliant.
NOTE: Please refer to the notes about the PCB HOLE in the Thonkiconn Jack Datasheet.
It is advisable to drill a 3mm hole in the PCB directly under the jack barrel centre or avoid routing traces or ground plane in that area.
 GREEN STEREO THONKICONN
This is a stereo version of the Thonkiconn jack which replaces the switch with the sleeve signal connector. The body of the jack is very slightly wider than the mono Thonkiconn, otherwise the PCB footprint is the same.

PJ301BM
Known commonly as 'Flight of Harmony' or 'Erthenvar' jacks, this popular component is a vertical mount 3.5mm switching phone jack with a threaded metal bushing.
This is the latest version of the part, redeveloped by the manufacturer in November 2012 to provide very reliable switch contacting.
Material:PBT housing, beryllium copper spring, brass curve piece.
Temperature Range: -30 deg c~70 deg c?
Rated Current:0.5A
Contact Resistance:0.03 Ohm
Rated Voltage:30V AC/DC
Test Voltage:500V/60s
Insulation Resistance: 100MOhm
Insertion Force:5-20N
Withdrawal Force:4-20N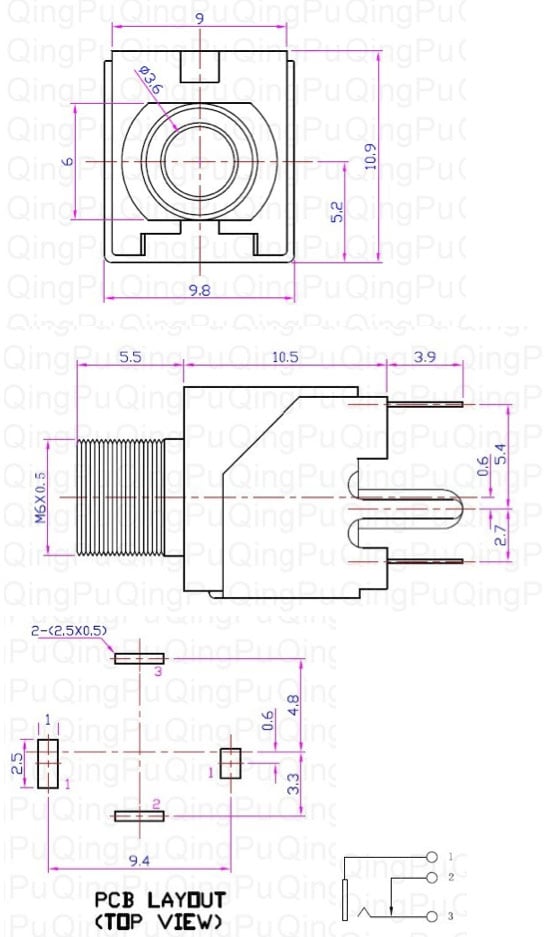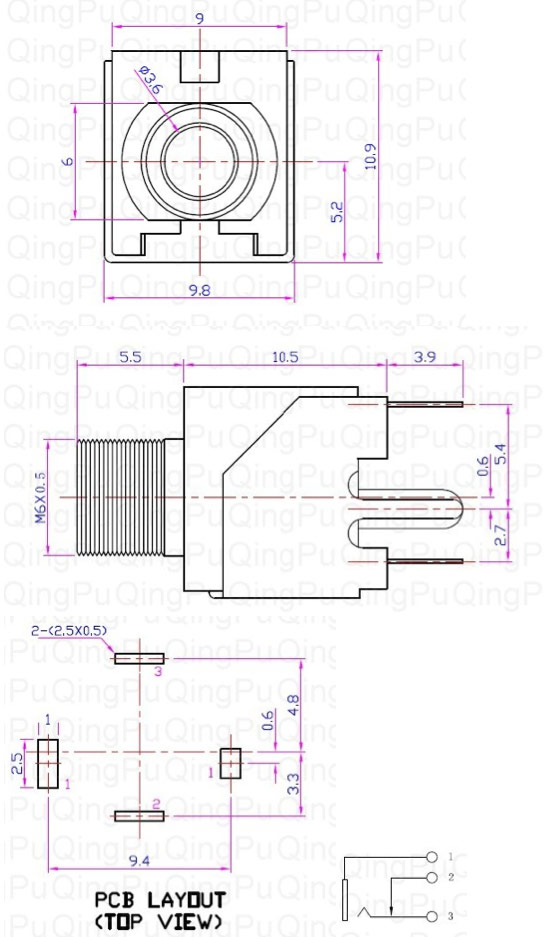 PJ301CM – Not recommended for new designs.

PJ302M
The PJ302M is a  horizontal or right angled mount 3.5mm switching mono phone jack.
It can simply be converted to a non switching jack as shown below. Various euro modules use these jacks, including the 4ms RCD and SCM modules.
All materials used are RoHS compliant.