Description
This handy PCB works as a mount for an OLED display to fit a Eurorack 1U row. It is 14HP and designed for the Intellijel 1U format. This project was mainly created for use with the Disting EX Eurorack module.
Note: this is a PCB only, you need to supply the rest of the parts including the OLED screen yourself, see below for details. If you don't have a 1U row, then it's also possible to mount the screen in 3U by using an XO FC3I3 adaptor
BOM
The project consists of the PCB and two connectors. One is a common through hole 7-way 0.1″ pitch header. The other is a surface mount 16-way 0.1″ pitch header, Samtec part number: SSM-116-L-SV.
Note that the PCB footprint is for the 20-way SMD header (SSM-120-L-SV), but the 16-way version is slightly cheaper and provides all the necessary connections. You will also need 7 x F-F DuPont cables for connecting the display PCB to the main module.
Compatible displays
The board is designed for use with the ER-OLEDM023-1 display modules from BuyDisplay.com (aka EastRising). Choose the "Pin Header Connection-4 Wire SPI" version from the drop down menu .
There are 4 colour options to choose from, available at the links below:
Use with disting EX
To use the 1U display with the Disting EX module, the firmware version needs to be updated to 1.14 or higher. Enable the second display in the Settings, and reboot the module.
On the disting EX, connections are mainly made to the FHX expansion header (GT2), with one connection to the ICSP header (for 3.3V power). Adding the display increases the disting EX's +12V current draw by 20mA.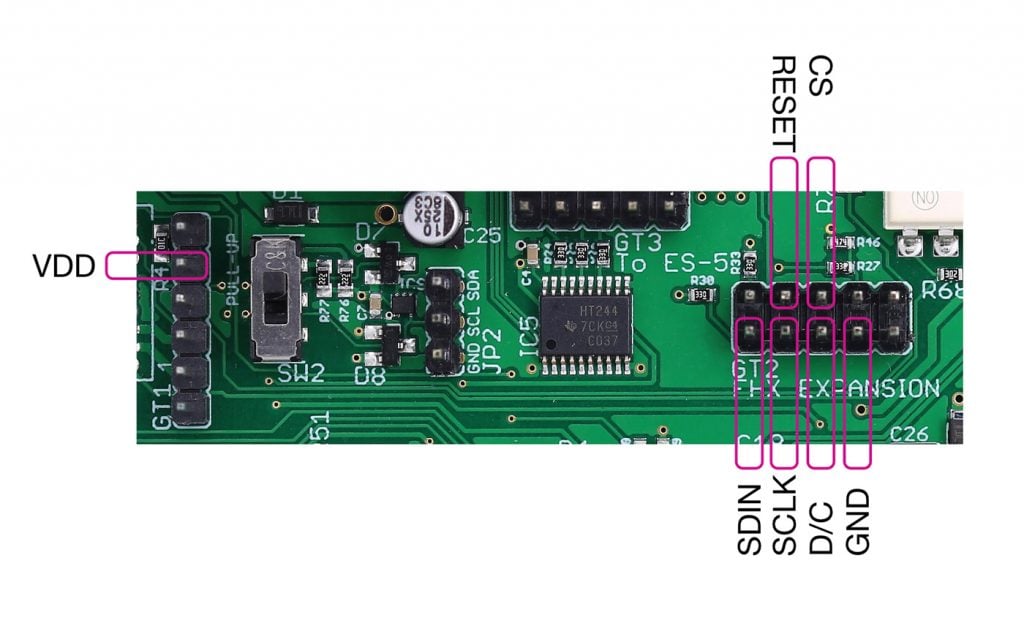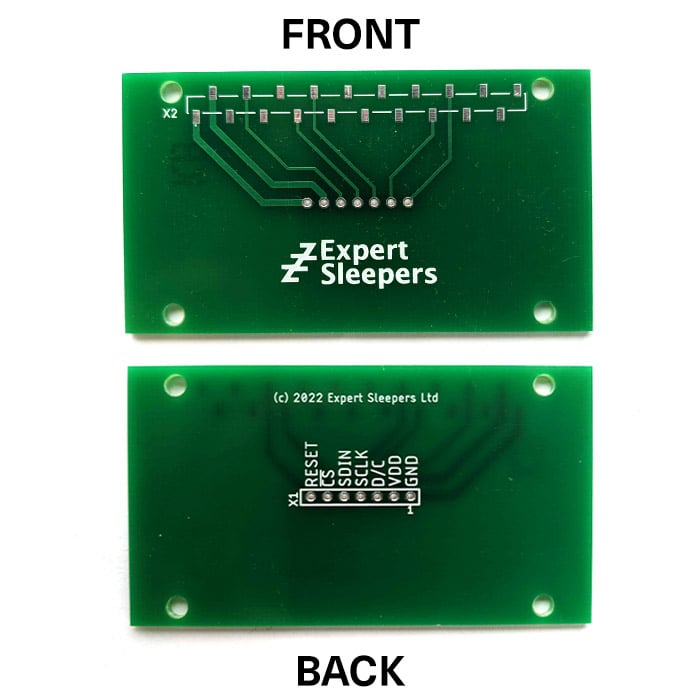 Support
For any build support questions please use the forum.