Description
The 16n AtoVproject Rework is aimed at solving a problem very specific to modular synthesis. As a patch is getting more and more complex a forest of cables has grown over your system before you know it. This module allows you to take the control of the modular using a very ergonomic controller that integrates perfectly into the modern studio.
The 16n AtoVproject Rework is a controller sending CV, I2C, MIDI jack, USB MIDI (compatible PC, Mac, iPad etc…), making it the absolute ultimate controller for any of your hardware and software all in one! Even better this controller can either be used as a Eurorack module or as a standalone unit using the included beautiful aluminum enclosure.
In 2019, the Berlin Modular community showed interest in building the 16n Faderbank. As one of the community organizers, AtoVproject decided to make a redesign of the 16n following the suggestions and desires of the community, including:
Isolated USB power supply. This greatly reduces the noise on the outputs
Selectable 5 or 10V outputs: Each outputs has a jumper on the back allowing you to decide whether this output sends 10 or 5V (even when using 5V USB power supply)
Outputs facing upwards: The outputs are directly on the front panel reducing the footprint and making outputs much more accessible.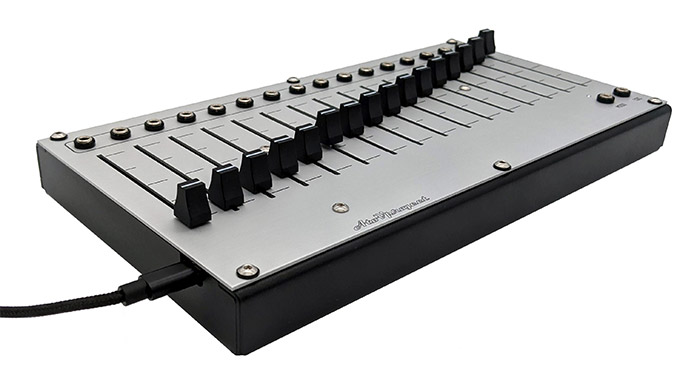 Features :
16 high high-end Alps faders

Eurorack compatible and standalone enclosure (for use in or out of the rack)

Selectable 0-5V or 0-10V CV output range (independent setting for each fader)

High stability power conditioning for high stability analog outputs

Utility connector on the back of the unit to simplify the use of i2c with modules like the ER301
Ships with:
Enclosure for standalone use (Aluminium Powder coated)

Black Eurorack panel (50HP)

USB cable (High quality 1.5m braided and shielded)

MIDI din to Jack adapter (90° angled, Type A)

Eurorack Power Cable
The 16n AtoVproject rework is a complete redesign of the original open source (CC-BY-SA) project 16n faderbank. This project was originated by Brian Crabtree, Sean Hellfritsch, Tom Armitage, Brendon Cassidy. As wished by the original designers the 16n AtoVproject rework is also open source and uses the same CC-BY-SA licence.
16n Faderbank – Build Document | User Manual