Description
A selection of Eurorack DIY Essentials – we'll be adding new products to this page
gradually
over time!
---
IC Sockets
Good quality DIL sockets, 7.62mm (0.3in) pitch that accepts round pin headers. The pins have been machine turned and the main body has been manufactured from polybutylene terephthalate (PBT) with glass fibre. Available in 8 pin, 14 pin and 16 pin socket sizes:
8 pin turned pin sockets – pack of x60
14 pin turned pin sockets – pack of x34
16 pin turned pin sockets – pack of x30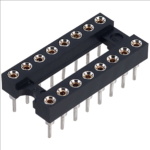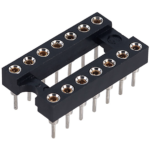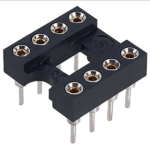 Specs:
Leg Style : Solder
Lead Pitch : 2.54mm
Row Pitch : 7.62mm
Contact Material : Copper Alloy
UL Approved.
---
Standoffs
11mm long, M3 female to female Hex Standoffs made from Steel with Zinc plating. Full datasheet here
Sold in packs of ten
---
Eurorack Power Cables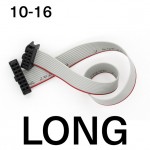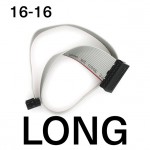 10 pin to 16 pin – 25cm long
16 pin to 16 pin – 30cm long
These cables are correctly keyed in relation to the red (-12v) ribbon conductor so are suitable for use with both shrouded and un-shrouded headers.
Always power your Eurorack modules wisely! RTFM!
---
Male + Female Header Bag (60 Pins Total)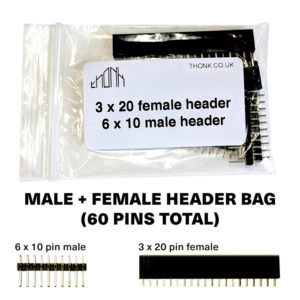 INCLUDES
6 x 10 pin male single row header (2.54mm pitch)
3 x 20 pin female single row header (2.54mm pitch)
Break these down or join them together in any configuration you need.
Manufactured by TruConnect
---
10uF Low-Profile Electrolytic Capacitor (35v)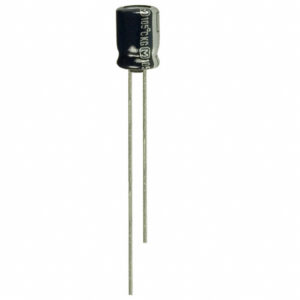 Panasonic Aluminium Electrolytic Capacitors – Radial Leaded
These are compact and low profile unipolar electrolytic caps – the same type that you will find in many kits packed by Thonk.
Diameter:5 mm
Length:5 mm
Lead Spacing:2.5 mm
Full datasheet here
---
Texas Instruments – TL072 (DIP-8) & TL074 (DIP-14)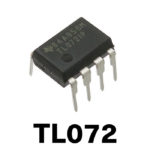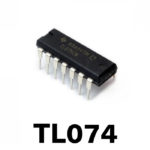 Operational Amplifiers IC chips
Through-hole package of these popular op-amp chips made by Texas Instruments.
Full datasheets here
---
Eurorack Power headers – Shrouded and Unshrouded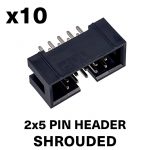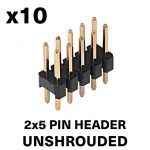 2×5 double row male pin headers (2.54mm pitch)
Either shrouded or bare/unshrouded
Sold in packs of ten