Description
You also need to buy POTS, here are three different options to add to your cart
OPTION 1 – BUDGET STYLE – Buy nine B50K – Song Huei TALL Trimmer Potentiometers HERE (If you want coloured knobs grab some of THESE)
OPTION 2 – 1973 MUSIC EASEL STYLE – Buy nine B50K – Round shaft Alpha pots HERE (for knobs use Blue or Red – Small – Rogan knobs HERE)
OPTION 3 – MODERN MUSIC EASEL STYLE – Buy nine B50K – D shaft  Alpha pots HERE (for knobs use Black Small Skirt D – Sifam Plastic Knob  HERE and don't forget to pick up some small size knobs caps HERE too! Buchla classic colours are red, green and blue)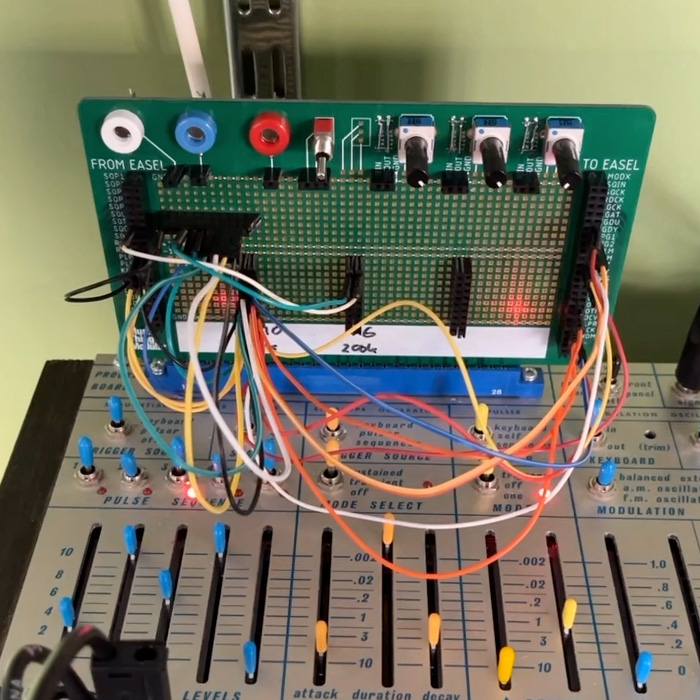 PRODUCT INFO
The program card slot on the Buchla Music Easel program card is a great platform for DIY, but like anything Buchla, it's not completely intuitive.
The program card slot has access to 45 different signals. They're not all strictly inputs or outputs – they're signals that you can connect to and either read or influence.
The original Music Easel Program Card – described in lots of detail in the Original Easel Manual by Allen Strange from p23 onwards – was designed to store patches. So, with a handful of resistors, you could preset sequences and fader or switch positions.
But you can do more than just save patches: build an LFO, and patch that wherever you like. Attach an Arduino and generate euclidean pulse streams. Randomise things that can't normally be randomised. This proto board is designed for hacking, not for preset storage (although of course you can do both).
It includes space for 3 x banana jacks, 2 x switches, 3 x potentiometers (with the supporting circuitry).
If you add pin headers and rows of resistors (as shown above) it becomes a patchbay for on-the-fly rewiring and prototyping your prototypes."
This is a good introduction to the proto board: Music Easel Hacking for Beginners.
THE KIT INCLUDES…
Three PROTO PCBs – Matt Black Soldermask, White Text, Gold ENIG plating and Gold Fingers.
Approx 30 male to male jumper leads of various sizes for patching.
9 banana jacks with wire (an assortment of colours, buy more here)
6 switches – 3 x Dailywell DW1 (ON/ON) and 3 x DW2 (ON/OFF/ON) (buy more here)
Red switch caps (if you want other colours go here).
All resistors required plus some Buchla recommended values to get you started.
Double and single female headers to cover all the base locations and more for prototyping.
DOCUMENTATION
First read – Music Easel Hacking for Beginners.
Then Read – Original Easel Manual by Allen Strange